Description
EduCorps represents the community of individuals interested in growing the future through teaching. Its purposes are to significantly increase the number and diversity of students entering CSU's teacher preparation programs, especially in high-need areas such as math, science, special education, and bilingual education, and to provide ongoing, high-quality support to members on their path to earning their teaching credentials.
This year, we are sponsoring a month-long Celebration of Teaching this October. As you know, the CSU prepares more of California's teachers—preschool through grade 12—than any other institutions combined. It also produces nearly four percent of the nation's teachers. Our campuses work with local school systems to prepare teachers for success, equipping them with the skills and experiences to deliver high-quality, culturally responsive instruction to students. 
The idea behind the month-long Celebration of Teaching –for the fall– is to highlight the outstanding work that the CSU does to prepare teachers for our California PK-12 schools. A series of events are planned to take place throughout October - please see the Calendar of Events flyer with dates/times/and links to attend in the chat
ECCLPS shines a light on the pioneering work that is being done statewide and the ways in which we can support, refine and expand the implementation of environmental and climate change literacy moving forward. Developing climate change literacy and the capacities and motivation required to make real change to our impact on the natural systems that sustain us. Further, it aims to accomplish this by empowering the collective 500,000 high school students who graduate each year in CA. We seek to significantly expand the opportunities of every child in California to learn about climate change and to have the tools to affect positive social action.
To receive more information and update each week's upcoming events including the links to the webinar,
Register here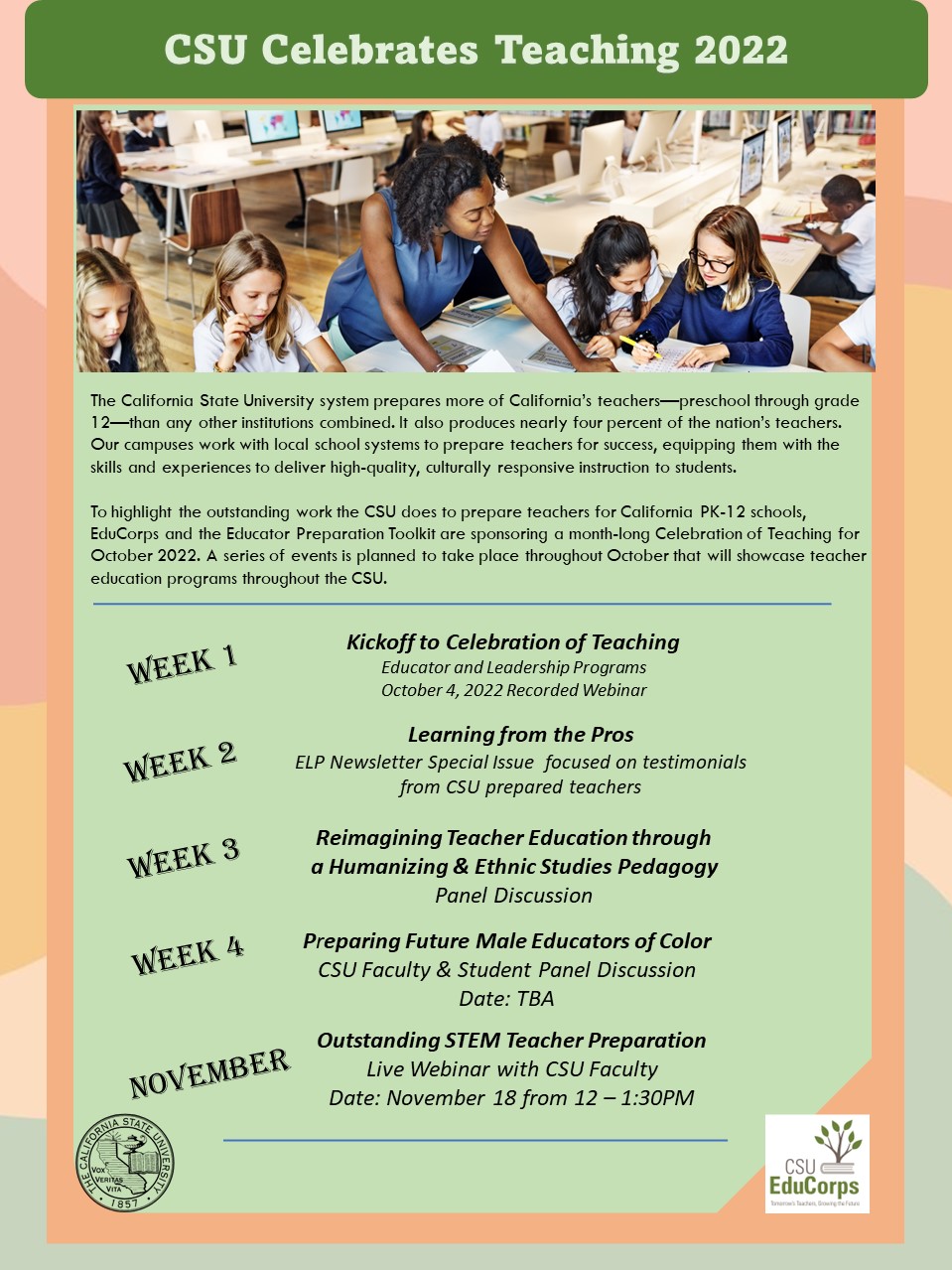 This Fall's event will be an inspiring one. Please share this link to your colleagues and anyone who may be interested in teaching.
Department